Featured Listings UNDER Climbing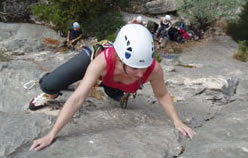 Possibly one of the most famous Climbing locations in the world and where most of the sport was created. North wales still boasts a huge variety of rock, indoor walls and mountains suitable for a wide range of abilities. From absolute beginn
er routes to some true classics. North Wales is a exceptionally rich place for all climbers.
There is Climbing and walking at all grades. There are many guides in print to the area available at local outdoor shops. If weather conditions are poor and you want to continue your training there are a number of indoor Climbing venues open all year round.
Showing 1 to 20 of 24
Bristol, Bristol
Retailer of a range of climbing equipment including climbing shoes, ropes, harnesses and gear.
Caernarfon, Gwynedd
Beacon Climbing Centre is a premium all weather venue, open 7 days a week with exciting climbing activities suitable for the whole family.
Cardiff (Caerdydd), Cardiff
Since opening in September 2008, Boulders Indoor Climbing has become one of the most talked about indoor climbing walls in recent years. Boasting over 2,000 square meters of climbing wall and over 100...
Caernarfon, Gwynedd
Dragon Mountain Skills is based near Llanberis, North Wales and is run by experienced, enthusiastic mountaineer, Bryn Williams. Bryn is good at listening to your enquiry and then planning your course ...
,
Weekend breaks, courses, tuition and adventure holidays in Snowdonia, North Wales. Activities include coasteering, rock climbing, hill walking, mountain scrambling and ice climbing For individuals, co...
Deiniolen, Gwynedd
High Trek Snowdonia is an outdoor activity centre in North Wales offering a full range of mountain-based adventure holidays and courses. High Trek Snowdonia began in 1986 when keen mountaineers and w...
Corris, Gwynedd
Huw Gilbert Mountaineering, based in Southern Snowdonia, offers instruction and leading in all aspects of mountaincraft from the complete beginner wishing to venture into the hills for the first time,...
Llanberis, Gwynedd
An exciting and challenging high ropes adventure centre featuring Giant swings, zip lines, climbing walls, and other challenges, all set in a beautiful lakeside setting with fantastic views of the mou...
,
Llanberis Guides Ltd. is a mountain guides company based in Snowdonia, North Wales, UK. We offer all aspects of rock climbing and mountaineering guiding and instruction, all year round. The mounta...
, Kent
Rock climbing, scrambling and hill walking courses across the UK.
Dyffryn Ardudwy, Gwynedd
North Wales climbers offers the rock climber what are some of the best courses and instruction on some of the best crags, sea cliffs and boulders for rock climbing in North Wales and beyond . Ba...
Southsea, Wrexham
Unique adventure centre offering lots of activities based around the biggest climbing wall in the area. Climbing instructions indoors and out. Rock climbing, Scrambling and Abseiling. High ropes co...
Birchgrove,
Plas y Brenin, The National Mountain Centre - outdoor activity courses in rock climbing, hillwalking, mountaineering, ski-touring, kayaking, canoeing, sea kayaking, first aid, orienteering and teambui...
Blackwood (Coed Duon), Caerphilly
Delivering nationally accredited Qualification Network UK Outdoor First Aid training and assessment courses across Wales.
Moston, Manchester
Remote First Aid offer REC First Aid training courses for outdoor instructors and the public. Offering nationally recognised and accepted first aid qualifications for Mountaineering, Climbing, Off-road Cycling, Kayaking, canoeing, Sailing and many more adventure sports. Courses leading to national awards in first aid care with training delivery over one, two or three days depending on your qualification needs.
Llangollen, Denbighshire
We specialise in organising activities ranging from Rock-climbing to whitewater rafting all based around Llangollen. Want to organise a fun weekend away then contact us. Call now : 01978 860471
Bethesda, Gwynedd
Sea 2 Summit are based in Snowdonia, North Wales, and provide personalised outdoor pursuit courses, for all abilities, year round. On the land we specialise in Rock Climbing and Mountain Walking cour...
,
Snowdonia Climbing is an independent adventure company located in Western Snowdonia, North Wales. We offer a wide range of mountaineering courses for all levels of ability from absolute beginner to th...
Bethasda, Gwynedd
Snowdonia Outdoor Adventure is run by Kathryn Bromfield and Paul James.
Boncath, Pembrokeshire
Pembrokeshire, the home of Coasteering. The original and best! A combination of scrambling, climbing, traversing, cliff jumping and swimming that was first developed in Pembrokeshire in the 80s and...