Featured Listings UNDER Caving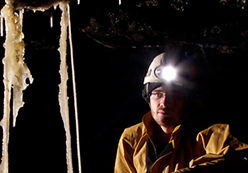 Get Down and Dirty With our Caving Resources Guide. Everything you need to know about Caving is here!!! Aslong as you dont mind being in small compressed space for a while then what have you got to lose. All you need to do is get the right equipment together get a few people to meet up. But make sure at least one person knows what to do and make sure everything is safe before you go ahead with the Caving.
The best thing to do is to have a few lessons so you know the kind of thing you need to do and the kind of clothes you need to wear. Also make sure you can tighhten the knots in the ropes tthe right amount. Also make sure you know how to attach and check your own and other peoples harnesses to make sure there will be no damages or major accidents even if something does go wrong. Things only go wrong if you make them go wrong.
Caving is all about balance and grip. if you have good balance and good grip, which means good upper body strength and grippy shoes then you will be fine and you can hold on to ledges and shimmy across higher up objects to get to other places. Basically make sure you know what you are doing and away you go. Also make sure the cave you are go the go Caving in is suitable fot your standard and also make sure it has been done before and that its not just some cave you've found on a cliff and think lets go down there. Be certain that no water is going to flow in and flood the place, otherwise your in trouble.
Showing 1 to 5 of 5
< Back 1 Next >
Betws-y-Coed, Conwy
Test your nerve by journeying through a mountain via a series of exciting adventurous challenges on one of our three epic underground adventures.
Llandudno, Conwy
In 1985 a small and somewhat diverse group of local mine explorers founded the Great Orme Exploration Society. The express intention was to study, investigate, and promote the history of 'Llandudno's ...
,
Officially the objectives of the NWCC are "The Exploration, Study and Conservation of Caves and Historic Mines in North Wales." - Unofficially we just try to have fun underground. The NWCC indulges in...
,
This southern edge of the Brecon Beacons National Park contains a belt of carboniferous limestone wedged between Old Red sandstone to the north and the Millstone Grit containing coal deposits to the s...
,
South Wales is one of the finest caving regions in the UK. Directly below our headquarters lies Ogof Ffynnon Ddu and across the valley is Dan-yr-Ogof, two very extensive cave systems. Within easy driv...
< Back 1 Next >