Featured Listings UNDER Paragliding & Kiting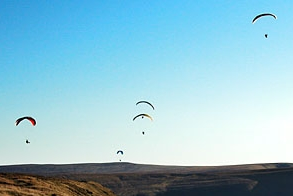 Paragliding is not a sport for the unadventurous or uncertain. It takes a lot of time and money on training before you can go out. Even more if you do so without a club. In order to start you must contact one of the BHPAs training schools. You have to complete a 10 day course before you can fly outside the school and pass any assessment they give you, costing about £900. If on continuing you then buy your own equipment it will cost probably more than £2000(if second hand). Use the BHPA to find clubs or training schools at www.bhpa.co.uk.
Showing 1 to 10 of 10
< Back 1 Next >
Abergavenny (Y Fenni), Monmouthshire
Axis paragliding and Paramotoring, A small BHPA registered training School, based in Abergavenny
Aberdyfi, Gwynedd
We teach the exhilarating sports of Kitesurfing and Powerkiting in Aberdovey. With its miles of never ending beach and safe, shallow lagoons that form throughout the day its one of the best and m...
Llantrisant, Rhondda Cynon Taff
Jet stream adventure sports specialises in beginners parachuting and skydiving courses across the UK including FREE charity jumps.
,
Welcome to the North Wales Hang Gliding and Paragliding Club (NWHGPC), one of the oldest free flying clubs in the UK (more about...). Whether you're an old hand or a newly qualified paraglider or hang...
Kinmel Bay (Bae Cinmel), Conwy
Kitesurfing / Kiteboarding can be an extreme and exciting sport but now there is a full time Kitesurfing School giving kitesurfing lessons daily on the North Wales coast. Run by Steve Jones IKO Level 2 Senior Kitesurfing Instructor and based in Kinmel Bay where there is 3 miles of quiet Beach.

Blaenavon, Torfaen
Paraventure is a dedicated paragliding and paramotoring centre covering mostly South Wales and the West Country regions. We are based at the World Heritage site of Blaenavon South Wales within easy reach of the M4 and the A40. We specialise in select, highly personal paragliding training either with very small groups or one on one private tuition, with up to date paragliding equipment and as a result we produce skilled and confidence pilots. Your paragliding lessons and courses will be taught by either Paul Williams, Chris White, or both, who are listed as two of the countries best known instructors with over 32 years experience between them. To learn more about why our standards are so high, how we do things differently and why we are regarded as one of the best paragliding and paramotoring training schools in the country please visit our website.
,
The South East Wales Hang Gliding and Paragliding Club looking after hang gliding and paragliding sits and pilots in south east Wales. Find out how easy it is to learn to fly a hang glider or paraglid...
Bangor, Gwynedd
Snowdon Gliders is the main free flight centre in North Wales. Our paragliding courses are taught from our well equipped centre situated close to the main flying sites. We work with only small grou...
Llandudno Junction, Conwy
Turbulence Extreme Sports is easily located just off the A55 at Llandudno Junction in North Wales. They sell and provide tuition for all things related to powerkiting. Kiteboarding is an incredible ne...
, Swansea
Walk On Water Sports - We Provide Kayaking hire and Kiting Tuition from Qualified BKSA instructors
< Back 1 Next >